Seven Bass Design
The SEVEN BASS Design brand brings you into a world of technical fishing navigation, whether for outdoor recreation, outdoor, or fishing.
You will discover complete and technical ranges of Float tubes, kayaks, stand up paddles, boats, coolers and accessories.
SEVEN BASS Design has its origins in a family history, gravitating in the open air, skiing and fishing, more than 40 years old. Behind this love of work well done and beautiful products, this cache a lot of work and passion.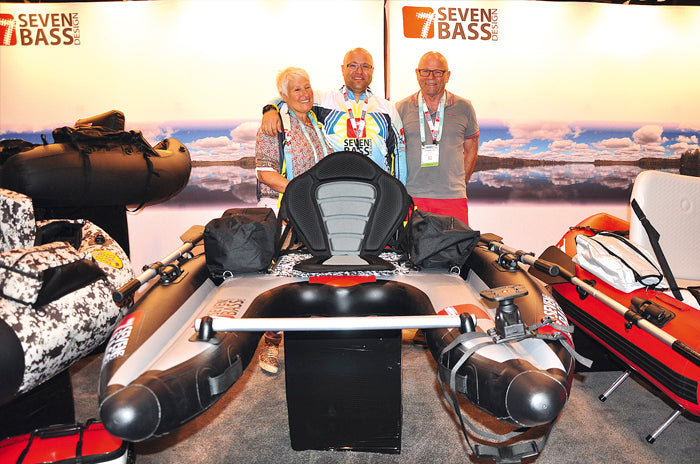 The brand is native to South-West France, a region of ancestral tradition and well-established culture, mixing folklore, gastronomy, fishing & hunting, skiing and the simple pleasures of life. It has been shaped by a melting pot of sport, travel, knowledge and technique. Behind every product lies a lot of work, research, number of prototypes and improvements, in the perpetual search for new techniques or new influences.
| | |
| --- | --- |
| | Design & Innovation |
at SOCIETE CLEE Company, it's this desire to always go forward that made you do many "firsts" in Europe, especially in the world of float tube:
2011 : Armada. we introduces the first tubeless PVC hybrid float tube in Europe
2012 : COBRA. The first hybrid PVC float tube with oars, for improved mobility, launched in Europe.
2014 : JUNGLE OPERATOR. SEVEN BASS DESIGN reinvents float tubes as we know them by integrating
dropstitch technology. Renegade anglers can now fish seated or standing. As well as use fins, oars, or a trolling
motor.
2015 : SKULLWAY. The first fishing float tube with an incorporated trolling motor mount. Go the distance!
2016 : BOLT. SEVEN BASS DESIGN introduces the Flex system to anchor gear and customize cargo storage.
Float tube can now be personalized for the fishing session at hand.
2016 : FLATFORM. Seven Bass Design registered FLATFORM is introduced.
2017 : série ADVANCE. SEVEN BASS DESIGN float tube anglers now have the choice of a classic cordura
float tube with oars.
2017 : TOMAHAWK. A cutting edge design to support enhanced multi-angled casting.
2018 : JUNGLE OPERATOR FLEX Wins Efttex's top award "Innovation of the Year" 

for season 2018-2019

. The ultimate float tube
is now plug & go ready.
- our exclusive and removable CARGO FLEX pocket system, with CLIPLINE lifeline,
- as well as the fact that it is PLUG & GO READY, with 4 bases pre-positioned to accommodate all the accessoirisation possible of our range PLUG & GO covering rod holders, sounder support, camera support and GoPro
2019 : 

FLATFORM JUNIOR

Win at Efttex 2 top awards "best floating apparel of the Year" and  "visitor's choice of the year" for season 2019-2020.
You, Us, Our Passion
We write the day-to-day history of our brand with you and all our team, so all your most constructive feedback is always taken into account, which allows to be closer to your needs, your expectations.
Here is our site, which we hope will be for you like a breath of fresh air reminding you that there is nothing more important than your passion. This site aims to make you know a little more our products, their tests, as well as our news. We always love what we do because we do what we love ... Come and enjoy our shared passion in this space dedicated to you. !